Lem Banker is Las Vegas: 'Godfather of Sports Betting' shares his stories
Nov 20, 2020 |
By:
Patrick Everson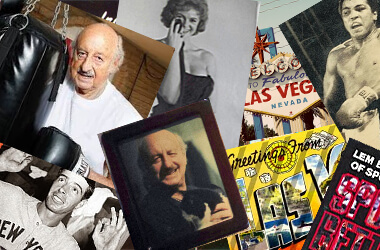 "There wasn't a bookmaker dead or alive that I didn't beat," Banker tells Covers. "I won a lot of money, and I paid my taxes."
Photo By - Photos courtesy Lem Banker
Editor's note: Lem Banker died Friday morning in Las Vegas at the age of 93. The widely renowned sports bettor lived a colorful and successful life, much of it after arriving in Las Vegas in 1957. Covers senior writer Patrick Everson spent the better part of a day with Banker in September 2014. Banker shared his stories in the following article, which was originally published on Sept. 4, 2014.
It's not a stretch to call Lem Banker the godfather of sports betting. You could even say he wrote the book on sports betting.
Really. You could. Because he did.
It's called "Lem Banker's Book of Sports Betting," published in 1986 – nearly 30 years ago. That was about 30 years after Banker first set foot in Las Vegas, moving from New Jersey in 1957, when he was 30 years old.
He's seen and done it all, probably two or three times, and he's still kicking at 87 years old. His memory of the old Vegas days is still pretty sharp.
"It was all ex-bootleggers and bookmakers from all over the country," Banker says from a plush chair in the family room of his sprawling single-story home, located – quite rightly – in an old-money, old neighborhood just west of downtown. "I knew every one of them."
And they all got to know him, though perhaps they wish they hadn't.
"There wasn't a bookmaker dead or alive that I didn't beat," Banker tells
Covers
. "I won a lot of money, and I paid my taxes."
That's saying something for a man who never drew a steady paycheck in his life. He made his name as a savvy sports bettor, becoming so renowned that he ran in the same crowd with many other big names from all walks of life.
And he doesn't mind letting you know that, too, peppering his conversation with the likes of boxers Sonny Liston, Rocky Marciano and Joe Lewis, baseball great Joe DiMaggio, renegade Oakland Raiders owner Al Davis and even Elvis Presley.
Of course, there's also Lefty Rosenthal, whose career as a sports bettor, casino executive and organized crime associate was depicted in Martin Scorsese's 1995 film,
Casino
.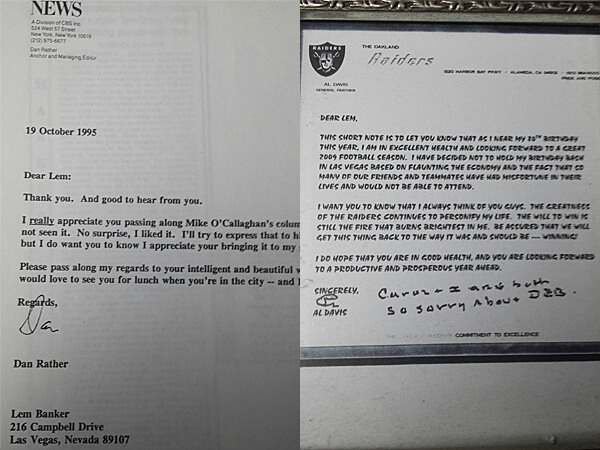 Letters to Lem from CBS News anchor Dan Rather and Raiders owner Al Davis.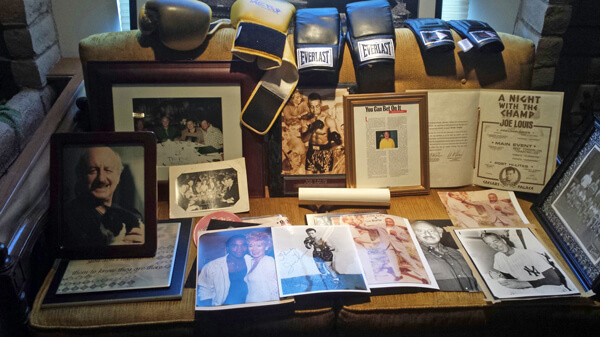 Lem's family room is packed with sports memorabilia, including some historic boxing items.
Banker's family room is plastered with photos of all the above and dozens more, along with a plethora of memorabilia gathered throughout his 57 years in Las Vegas. He easily recalls the circumstances under which many of the pictures were taken, belying his age. Perhaps his most precious photo keepsakes, though, are batches of pictures of his wife Debbie, who passed away five years ago.
Debbie was a beauty contest winner, and a bound portfolio full of stunning cheesecake photos clearly showed why. Banker didn't just win at the betting window, to be sure.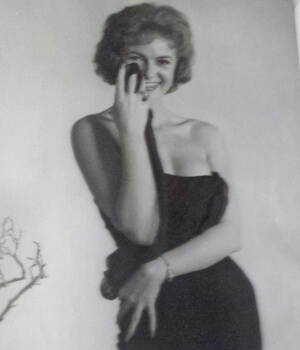 Lem's wife Debbie was his biggest win.
But it all comes back to betting for Banker. He was a man ahead of his time in an era so far removed from computers, the Internet and social media, that it would be practically unrecognizable to the sharp bettors of today.
He had to rely on newspapers. Lots of them.
"One guy would call me from New York and read me papers from all over the country – New York, Atlanta, New Orleans, Chicago," Banker says. "I was on top of everything."
That allowed him to record what he still considers one of his sweetest betting victories: the 1964 matchup between archrivals Notre Dame and Southern California.
"Notre Dame was No. 1 and undefeated. They came in to play Southern Cal at the Coliseum. I was down to my last $10,000 (to bet). I bought a bunch of tickets for me and my friends, and we took a limo to the game," Banker says.
Knowing Southern Cal inside and out, he put the whole wad of cash on the underdog Trojans, but it didn't look good at the half, with USC down 17-0. However, Banker's instincts and insight ended up paying off big.
"In the second half, Southern Cal came back with 20 unanswered points and won the game outright (20-17)."
"I bought a bunch of tickets for me and my friends, and we took a limo to the game."
Banker was so tuned in that often times what he couldn't get from the papers, he got from insiders actually contacting him. He said that was the case for the Marvin Hagler-Thomas Hearns fight at Caesars Palace in 1985. Banker had it on good word that Hearns suffered a cut inside his mouth in the days leading up to the fight.
"As soon as I got off the phone, I called Hagler's managers and I told them to tell Hagler to go after Hearns' mouth," Banker says.
Hagler won on a third-round technical knockout in what The Ring magazine called "the most electrifying eight minutes ever." It certainly put a charge in Banker's pocketbook, to the tune of close to $100,000, he said.
He had similar action on Larry Holmes against Muhammad Ali in 1980, and again had a little insider info, knowing that Ali was struggling with his weight. Holmes stopped Ali after 10 rounds of the scheduled 15-rounder.
But it's a different time now in Las Vegas, and one Banker isn't nearly as fond of. The Internet Age has made it harder for players to get competitive odds at the books.
"Everybody has the same numbers," Banker laments. "Corporations run everything now. It was much better when the mob ran this town. Corporations only care about the bottom line.
"I don't even play in the casinos anymore. I'll go to watch the horses, and go to the deli."
That's not to say the local books haven't seen his action. Juan Caraveo has served as Banker's right-hand man the past 17 years, helping him handle all his affairs, including some wagering, of course.
"I used to go put money in for Lem," Caraveo said. "And he'd tell me, 'Watch the line move after you place this bet.' And then it would move. I was like, 'Wow.'"
But the size of the bets is nowhere near as large now, usually just a couple hundred dollars, maybe more on occasion. With a few exceptions, Banker doesn't think much of modern-day sharp bettors.
"They're all corporate fucking assholes. It's all computerized," he says. "I could never do today what I did years ago. To do everything without any other income, I couldn't do it myself. The bookmaking is so strong. The edge is with the bookmakers."
But likewise, the sharps of today could never do what Banker did years and decades ago.
"They might not have the courage to do what I did," Banker says, intimating he might have skirted the law a bit.
"Corporations run everything now. It was much better when the mob ran this town."
As his live-in caretaker Gilbert Barragan finishes cooking dinner, Banker turns his attention to the NFL season, which kicks off Thursday night when Green Bay travels to Seattle. No surprise that Banker has a strong opinion on the game, as he counts the NFL among the sports he bets best, along with boxing and college basketball.
"I'm taking the six points on the Green Bay Packers. I love their quarterback," he says, while noting he's got some ground to make up. "I played five college football games and four out of five were losers, but I'll get it all back with pro football."
It's hard to doubt the man as he prepares to feast on a hefty top sirloin burger, corn on the cob, homemade coleslaw, some Marie Callender's blueberry pie, and a modest vice: a tall, cool glass of Heineken. But only one glass.
"I've never been drunk, I've never smoked, I've never taken a drug," Banker says. "That's why I'm still alive."
And you can book that
.